AD Bulk Export version 4 the latest version of our Active Directory export tool is now available to download. It is a significant upgrade over version 3, to start with version 4 is now 1500% quicker and uses 75% less RAM!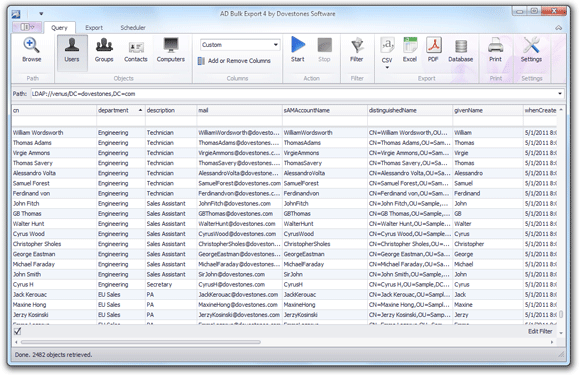 You can now select a mix of OUs and groups to retrieve the users, contacts, groups or computer from using our suberb new AD tree browser.
Version 4 now contains a built-in scheduler so you can easily schedule exports of data from Active Directory at intervals you decide. You can now export Excel (.xls) and PDF as well as CSV, database export now includes Oracle databases as well as SQL.
We've built-in some a fantastic new filter which makes it easy to get to the data you need, the filter also works from the command line and scheduler.
Click the following link to read more https://www.dovestones.com/active-directory-export/.
You can download AD Bulk Export 4 now from https://www.dovestones.com/download/.